Filpass Digital Identity Card
Digital Proof of Identity
Provides a more secure and convenient way to verify your users' identity credentials for both digital and in-person services
Seamless Online Registration
● to facilitate fast and reliable transactions
● Allows you to obtain information from users upon their consent and efficiently perform accelerated eKYC processes with data from participating government sources.
Secured Online Authentication
● for better customer experience and fraud control
● Authenticate and onboard users of your online services with greater accuracy and assurance despite not having to implement and operate your digital infrastructure and systems.
FilPass is a
digital wallet
that provides schools, private instructions, and individuals with a
blockchain-secured system that stores, issues, and verifies important documents and credentials.
We create a convenient solution for people to carry all their IDs and documents in one digital-identity wallet without having to worry about losing their data as we also protect data privacy.
Sample FilPass Digital Identity Card
Normal FilPass ID with ALL
information displayed with Print &
Download on verification
FilPass ID without contact number & address
plus without Print & Download on the
verification page
FilPass ID with
revoked/sharing expiration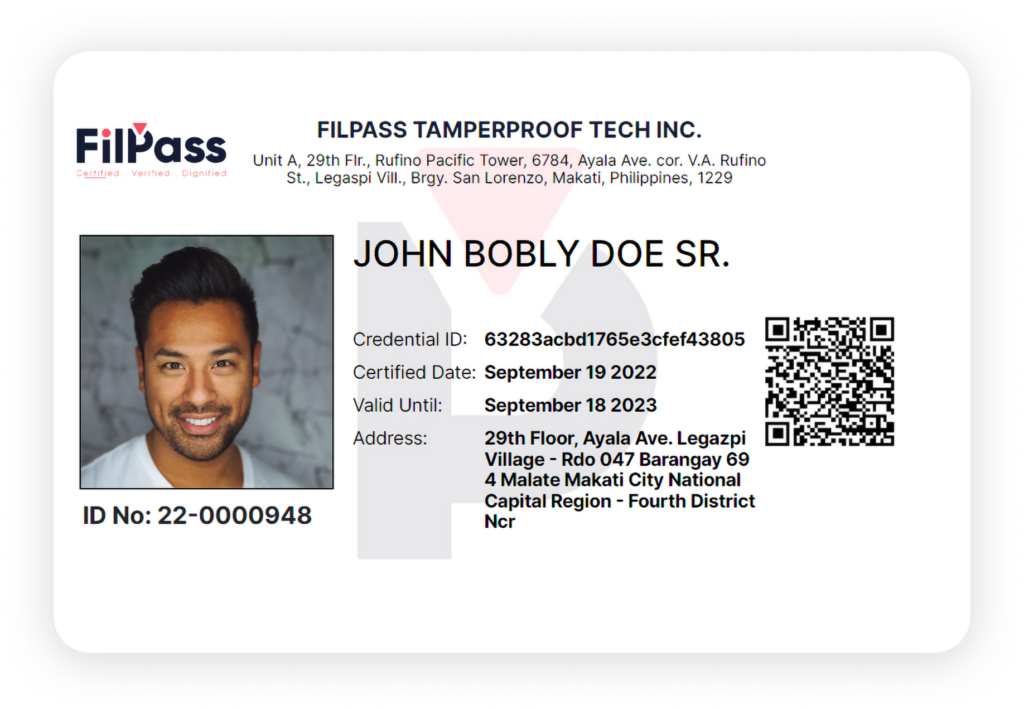 Go to app.filpass.ph and click sign up to create your very own digital ID!
Frequently Asked Questions
Visit our FAQ Page to learn more about FilPass and how it works.
Put an end to fake claims now