CIO Forum Foundation Geared up into Digital Identity Sector with FilPass - Press Release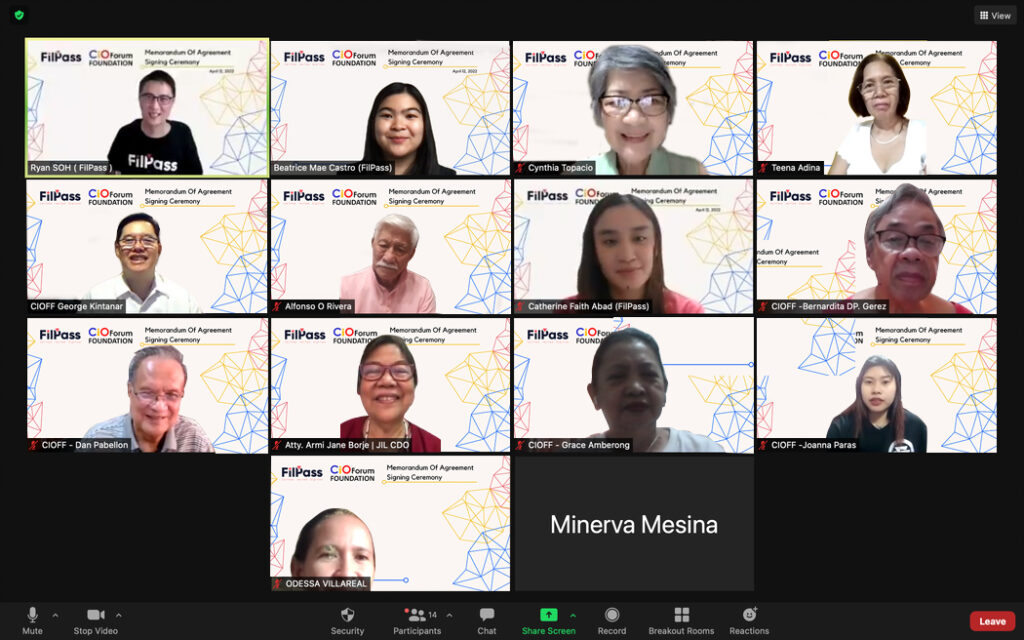 April 12, 2022 – Imagine having your digital identity stored securely on your mobile phone together with all the personal credentials which are verifiable and within your sharing control. Partnering with a local entity, FilPass Tamperproof Tech Inc(FilPass), this is the technology CIO Forum Foundation (CIOFF) would like to introduce to the Philippines market.
CIOFF and FilPass have signed a Memorandumof Agreement to introduce blockchain technology to respective sectors which will benefit from the technology.
Fake documents are rampant in the Philippines. Because of this, many organizations are defrauded as they cannot verify whether their members' identification cards, contracts, and documents are legitimate. As the lack of a verification system has been missing in both the private and public sectors, the CIO Forum Foundation nowcaninstantly validate the authenticity of its members' IDs and certificates with just a quick QR code scanner. Through this, the security system of the CIO Forum Foundation would now be improved for the benefit of their present and future advocacy programs.
Looking at how the CIO Forum Foundation focuses on creating advocacy programs to improve the information and communications technology (ICT) of the different units of government agencies, the collaboration with FilPass would be their first step to providing a more efficient and effective public governance. The partnership of these two organizations will be handled by Ryan Soh –Chief Strategy Officer of FilPass, Leo Querubin -Managing Director of FilPass, and George Kintanar -Chairman of the CIO Forum Foundation.The FilPass IDs would be used for events tracking and attendance, issuance,and verification of certificates, and scanning of membership identification cards for entry to important meetings.
FilPass is also being utilized by schools and universities such as De La Salle Lipa, PHINMA Education Network, and AMA University while it expands its reach to the travel industry with travel associations like UTAOA, and the healthcare sector via COVID-19 test centers such as –Breeze Medical Center, Intramuros Molecular Laboratory, Kaiser Medical Center, Manila HealthTek, and South Superhighway Biomedical Laboratories.
FilPass aims to be the go-to digital identity platform for Filipinos. The Filipino Pass -> FilPass!
For event photos, please refer to Annex A below.
For media enquiry, please contact the following:
FilPassTamperproof Tech Inc.(FilPass)
Rebekah Uy Kieng
Business Development Management
@: rebekah.kieng@filpass.ph
M: 0917-627-6024
Ryan Soh
Chief Strategy Officer
@: ryan@filpass.ph
M: 0956-860-8401
CIO Forum Foundation, Inc.(CIOFF)
Grace Amberong
CIOFF Webmaster
@: gmtamberong@gmail.com
M: 0917-805-0241
About CIO Forum Foundation, Inc.(CIOFF)
The CIO Forum Foundation is a non-profit organization that helps various government agencies grow in the information and communication technologies (ICT). Currently, it is headed by its chairman, George Kintanar, in its pursuit to digitalize the Philippines' issuance and verification system. By partnering with blockchain-security company like FilPass, the CIOFF aims to have better tracking of their members, events, and information with just a quick QR scan.
Learn more about how the CIOFF helps government agencies grow in the ICT projects at http://cioffoundation.org.ph and email us at info@cioffoundation.org.ph for more updates.
About FilPass
FilPass is a tamperproof technology solutions provider committed to building a robust, secure, and scalable digital identification and authentication ecosystem that the public and private sectors can leverage to decrease costs, increase efficiency, and deliver value-added services. It creates a seamless platform for issuing authorities to issue tamperproof verifiable documents and provides the recipient with a digital identity to manage their credential life cycle.
As part of the AWS Partner Network (APN),FilPass establishes a standard and universal trust framework that empowers all Filipinos to engage in a broad range of secured transactions and interactions domestically and internationally.
Learn more about how FilPass can help your organization's document issuance and verification process at filpass.ph and email us to book a demo at be@filpass.ph
Annex A
For the high-resolution photos, please download them from this link
You may also join our community to ensure you keep up to date with all of the news, activities, events, and opportunities at FilPass. Follow us on our social media accounts: